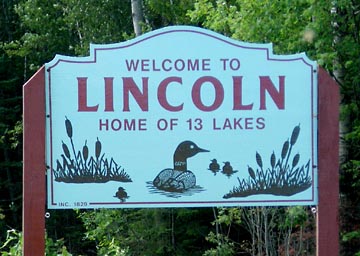 Community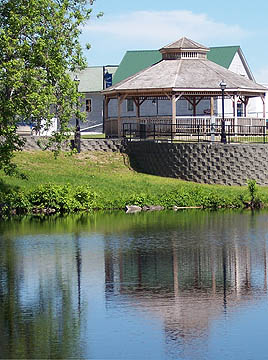 Located in north-central Maine, Lincoln is a friendly and picturesque city nestled at the base of the Maine Highlands. This four season paradise offers its residents access to the unspoiled natural beauty of Maine, as well as to nearby urban and International destinations. Home to 13 lakes and miles of river frontage, this self described "undiscovered" gem of a community strives to maintain both a small town atmosphere and to provide sustained economic opportunities.
Recreation
Well known for its pristine waterways, expansive forested lands, and accessibility to State and National Parks, Lincoln is the perfect base for year-round adventure! Imagine hiking, fishing, boating, swimming, skiing, snowmobiling… all within a few miles of home! There's even a local 18-hole golf course! During the warm months, enjoy access to a vast array of outdoor activities from hiking to canoeing to whitewater rafting! This region is perfect for a day hike, or you can grab a backpack and binoculars and set a course for Canada! The recently developed International Lakeland Trail system passes through Lincoln, connecting Maine to New Brunswick, Canada, over a network of more than one hundred miles of scenic paths traversing dense pine forest, stunning mountain vistas and rolling pastures. Or, climb Maine's highest peak, Mount Katahdin, the centerpiece of Baxter State Park. Named "The Greatest Mountain" by the Penobscot Indians, Katahdin rises majestically more than 5,000 feet, and is the northern terminus of the Appalachian Trail. Summer and fall are the best times to take advantage of plentiful fishing and various boating options. Nearly every lake has a public launch, so whether you're in the mood for a leisurely paddle in your canoe or kayak, or an exhilarating spin in your motorboat, there are thousands of acres of water to explore. Maine's rivers are legendary for both fishing and world-class whitewater, and there are outfitters for every skill and interest level. Winter months are paradise for snowmobiling, ice fishing and skiing. Avid "sledders" can have fun cruising thousands of miles of spectacular, groomed trails on the most extensive and well maintained snowmobile trail system in the country – and it passes right through Lincoln. There are numerous ice fishing derbies for the whole family to enjoy, and if skiing is your passion, take your pick from a number of challenging mountains. Sugarloaf, Maine's second highest peak, is just a few hours' drive, and offers a mix of cross-country and downhill skiing with 138 trails and the only lift-service above treeline skiing in the East.

Baxter State Park
Winter, spring, summer or fall, the Lincoln Lakes Region is an outdoor enthusiast's dream! Listen to the call of the loons, watch nesting eagles soar overhead, see plentiful deer in fields of wild clover, and spot moose as they graze in wooded glades. From the verdant landscape of the warmer months to the spectacular fireworks of autumn to the dazzling brilliance of snowfields in winter, Lincoln truly has something to offer for everyone, in every season!
If you're looking for arts and entertainment options, Lincoln is less than an hour's drive from Bangor, Maine's second largest city. Situated on the banks of the Penobscot River, Bangor is home to the flagship campus of the University of Maine system, The Bangor Symphony Orchestra, (America's oldest community orchestra), the Maine Center for the Arts, and annual staples like the American Folk Festival. The 'Queen City of the East' is also a foodie's delight - from ethnic to noveau to microbreweries, there's something for every palate. Travel frequently? Lincoln boasts its own municipal airport, and nearby Bangor International Airport serves several national airlines connecting to major hubs.
World-class rivers, spring-fed lakes and over 5,000 miles of rugged Atlantic coastline are just a part of what makes Maine an enticing destination. Discover Thunder Hole in Acadia National Park, pick wild blueberries in Washington county, dance the night away in one of Portland's nightclubs - adventure awaits! Come see what "Vacationland" can offer you!
Schools
Maine consistently ranks among the highest in the nation in terms of educational performance. Small class sizes, a high level of parental and community involvement, and a safe school environment help explain why students continue to produce impressive scores in math, reading and science assessment tests. The Lincoln area offers a choice of excellent programs, with public and private offerings. All students attending public school progress through elementary and junior high school together, and at the high school level students have the option of Matanawcook High School or North Penobscot Tech. If you're looking for private education, Greater Lincoln Christian Academy and Lincoln Montessori both offer exceptional programs for younger learners.
Higher education is thriving in Maine! The University of Maine system is a group of seven distinct institutions located across the state. The flagship campus is located in Orono, about 30 miles south of Lincoln. Close enough for a commute, UMaine is the state's premier public university, with a student body numbering over 12,000 enrolled in over 60 courses of undergraduate study, and graduate programs in education, biomedical science, and international affairs - to name a few! Maine's technical college system is extensive, and there are also several private colleges, including such prestigious institutions as Colby, Bates and Bowdoin Colleges.

Historic Schoolhouse, Lincoln, Maine
Economy
Lincoln is the commercial hub for a regional population of over 22,000 residents. The downtown and surrounding retail district is vibrant and growing, with a mix of local and national retailers. Lincoln is also home to a variety of area manufacturing companies that draw upon the abundant natural resources of the region. Lincoln Paper and Tissue is the largest employer, and holds the distinction of being the largest party napkin supplier in North America. Continued investments in more efficient technologies, and a dedicated workforce, help ensure a bright economic future. Because recreation is such an integral part of the fabric of life here, numerous summer camps and sporting lodges cater to vacationers and adventure-seekers from across the globe while providing varied employment opportunities for residents year round. Lincoln's business potential has captured the attention of several major retailers, and economic indicators continue to look optimistic for the area.
Real Estate
Affordable, safe, and reasonably priced, it's no surprise that Maine was voted the best state in the country to raise a family. With an old-fashioned sense of community, clean air and a stunning landscape, Lincoln offers a rich variety of housing options. Whether you picture a vintage Victorian on a sunny in-town lot, a quiet camp perched at the water's edge, a classic New England style farmhouse surrounded by rolling fields, or even purchasing a large tract of undeveloped land on which to build your dream home, it's all possible in Lincoln. Bring your dreams, and make them a reality in this beautiful, ideally situated community with so much to offer!