New England is the region in the northeastern corner of the United States consisting of the states of
Maine, New Hampshire, Vermont, Massachusetts, Rhode Island, and Connecticut.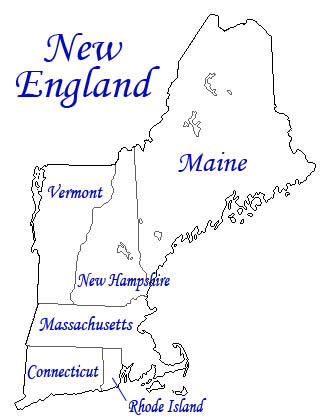 Click below to learn more about
each New England state:
Connecticut
New England's southernmost state is also part of the Tri-State area, with New York and New Jersey. Enjoy easy access to "The Big Apple" while surrounded by a quieter New England charm. A hundred miles of coastline features scenic harbors, relaxing beaches, picturesque lighthouses, and historic mansions. City living offers culture and diversity, and the countryside is home to a thriving agricultural economy, and lakefront living options!
Maine
Maine's nickname is Vacationland – featuring great seafood, and so much more! Year round recreation includes nationally-rated ski resorts, award-winning golf, hiking, snowmobiling, sailing and kayaking. Enjoy hundreds of miles of picturesque coastline with powdery beaches and dramatic rocky cliffs. Enjoy clear lakes, pristine forests and affordable real estate! Care for patients who respect and appreciate their doctors.
Massachusetts
American history will never forget the Tea Party or Paul Revere's ride, and today millions of residents enjoy contemporary Boston – a unique city of culture and pride. Settle into an affordable suburban lifestyle in a quaint, coastal New England town near enough to access all the amenities of Boston. Cape Cod remains a favored vacation destination – while the forested hills and western Massachusetts are popular with campers and hikers.
New Hampshire
The Granite State features natural beauty from the White Mountains, past peaceful lakes, to the popular beaches along its short coastline – making it wildly popular for all kinds of recreation. Skiing is a highlight, along with hiking on the scenic Appalachian Trail. The autumn foliage is famously spectacular. Safe, healthy, friendly and inviting – New Hampshire has no income tax or sales tax!
Rhode Island
Settled by Europeans in the early 1600s, the smallest state is full of history – and home to 20% of all U.S. historical landmarks! Respected today for education and creativity, Providence is home to over a million people, and several superb universities. Come to a friendly state that is famous for great food, fishing, sailing and antiquing – along an easy-access coastline! The entire shoreline is publicly owned for the benefit of all state residents.
Vermont
This is a tasty place to be – not just for Ben & Jerry's – for the maple syrup and local cheeses, too! With famous ski resorts such as Stowe and Killington, the Green Mountains have their own draw. Vermont has a thriving agricultural industry, and is equally vibrant in tourism. In addition, this healthy state features more than a hundred covered bridges and an energetic music scene! All are welcome to enjoy this classic New England lifestyle.